Petit Basset Griffon Vendéen Standard
Breeders having signed the Club pledge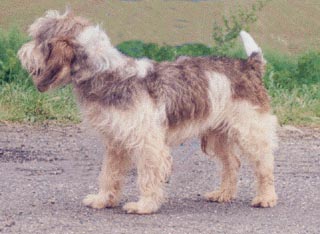 - Brief Historical Summary: Devil in the country, angel in the house, that's our basset. It's a passionate hunter, that must, from an early age, get used to obeying. Perfect assistant to the hunter with a gun on territories of medium size, specialist for rabbit, but no other game escapes from it.
CLASSIFICATION F.C.I. Group 6: Scenthounds and related breeds.
Section 1.3 : Small-sized hounds with working trial.
BRIEF HISTORICAL SUMMARY: For a long time the Petit Basset Griffon Vendéen had the same standard as the Grand Basset, only the size was different (from 34 cm to 38 cm). The result in utilisation was not very brilliant, because they were semi-crooked and as heavy as the Grand Basset. That is why Mr. Abel Dézamy created a separate standard for them. To define this hound, let us remember what Paul Daubigné wrote: It is no longer a small Vendéen by simple reduction of the height, but a small Basset harmoniously reduced in all its proportions and in its volume, that is naturally endowed with all moral qualities which presuppose the passion for hunting. A team of Petit Bassets won the first edition of France's Cup on rabbit.
- General Appearance: Small, active and vigorous hound, with a slightly elongated body. Proud tail carriage. Coat hard and long without exaggeration. Expressive head; leathers well turned inwards, covered with long hair and set below the level of the eye, not too long.
- Behavior: Passionate Hunter, courageous, likes the bramble and scrub.
- Temperament: Docile but wilful and passionate.